Ashtanga Yoga: An Interview with Bobbi Boston
Link: http://www.dharmalounge.net/ashtanga-yoga-an-interview-with-bobbi-boston
Date Published: April 25, 2011
Western Yoga's popular Vinyasa Flow classes are a hybrid based on the teachings of Ashtanga Yoga (Sanskrit for eight-limbed) created by Sri K. Pattabhi Jois and his teacher Sri Krishnamacharya.
Yoga teacher Bobbi Boston, received Pattabhi Jois' blessings before his passing to teach the Primary series, also referred to as Yoga Chikitsa, "the preservation of youthfulness and longevity of life."  The physical practice of The Primary Series consists of a set of 48 postures (asanas) carefully sequenced to produce a quality of stillness and inner awareness to the mind, while simultaneously delivering strength and flexibility to the body.
Since Bobbi will be teaching an Introduction to Ashtanga Workshop at Yoga Works this Saturday, April 30th, 2011, we asked her a few questions about Ashtanga.
DL: Can you tell me a little about Sri K. Pattabhi Jois?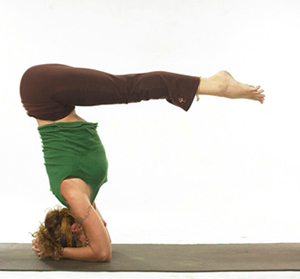 BB: In the yoga community, Sri K Pattabhi Jois is a household name. Along with his teacher, Sri Krishnamacharya, he created the Surya Namaskaras, known as Sun Salutations and the six sequences of Ashtanga Yoga of which Primary Series is only one. Among his students, his family and community he is affectionately known as Guruji (though he passed away 2 years ago). His Grandson, Sri R Sharath has seamlessly stepped into his shoes.
DL:  Who or what inspired you to begin the Ashtanga path?
BB: In 1996 I was living in Las Vegas, oddly enough, and working in Indonesia. While on an extended working trip, the economy collapsed there. So for safety reasons I went to visit a friend in Sydney, Australia until the dust settled in Indonesia and I could get back to work. She suggested we go to a yoga class and I loved it.
When I came home to Vegas there was no yoga quite like what I had experienced in Sydney. So I started buying videos advertised in Yoga Journal Magazine. I bought six or so, one of which was David Swenson's. I had no idea what this style of yoga was or what it meant,  I only knew that I loved it. Eventually I contacted him and we organized a workshop!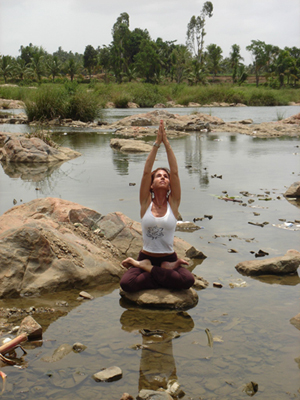 He came and stayed at my home in Las Vegas and we had four people in this workshop. It was the first human interaction I had with Ashtanga Yoga. I ended up practicing faithfully for some years with David Swenson, following him around from Austin to Costa Rica.  Mostly I practiced with his video and memorized the sequence. In 2001, I moved to Australia where the practice was flourishing. I found Eileen Hall who had already received her certification from Guruji.
Shortly after that, she brought Pattabhi Jois' whole family over and that was the first time I met Guruji, Saraswati and Sharath. Sharath looked at me and asked when I was coming to visit him in Mysore and the seed was planted! It would take me three years to get to Mysore.
DL Having had the privilege of studying personally with Pattabhi Jois, what was your most memorable moment?
BB: There are so many memories, so many moments strung together but I have to say the most meaningful was after conference which was a tradition of his on Sundays. Every Sunday all the students came to the shala at 5pm for some discussions, questions and answers regarding the practice, his lifestyle and the ancient texts that he always quoted from and referred to.
After conference we would all line up and bow to the feet of the Guru. It was a very moving, humbling and sacred gesture that I grew to look forward to. Afterwards, he would look at me and smile (he twinkled!) and say "Thank you", when he learned my name he said "Thank you Bobbi" That was a standout moment indeed.
DL: What is your personal philosophy as a teacher and how do you translate your philosophy through your teaching style?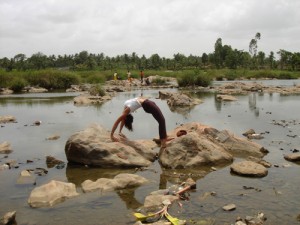 BB: In Ashtanga I keep to the teachings exactly how Guruji and Sharath have taught me. In Sanskrit, this is called Parampara, the transmission from teacher to disciple. I had the good fortune to study for many years prior to living in Mysore with great teachers. There is a strong Iyengar influence in my teaching. Learning the structure of an asana and establishing internal strength creates the ultimate invitation for energy to move.
I believe in a lighthearted approach and encourage everyone to investigate and have their own experience within the framework of the system. I am a student who is constantly observing how the magical components of Vinyasa affect me. I search for the best words that can describe what I observe.
Bobbi has lived, studied and taught yoga in Australia, Thailand and India. Her classes are creative, challenging and playful with a focus on a balance of breath and movement in the Vinyasa style. She is also experienced with teaching Therapeutic, Pre Natal, Aging Adults and Yoga for Kids. She is a dedicated student and a gifted teacher who continues her teaching education with her teacher in Mysore, India, R Sharath after the passing of Guruji; Sri K Patthabi Jois.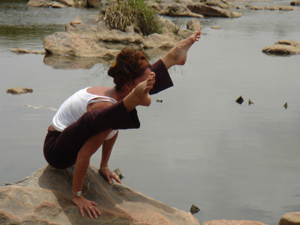 She studied in the Iyengar system with Glenn Ceresoli, incorporating those principles into her teaching style.  Her Ayurvedic studies in Kerala, India, and further studies in Therapeutic Yoga and Insight Meditation residential retreats have contributed to her dedication to a holistic approach of health and wellness.  She teaches group classes, private lessons, workshops and retreats. She has received the blessing of Sri K Pattabhi Jois before his passing and his grandson R Sharath authorizing her to teach Ashtanga Yoga.
If you're interested in taking an Introduction to Ashtanga workshop with Bobbi, she's teaching Saturday, April 30th,  2011 at Yogaworks in Tarzana, California from 2:00 pm – 4:30 pm. It's a "must attend" For more information and registration, contact (310) 664-6470, extension 125.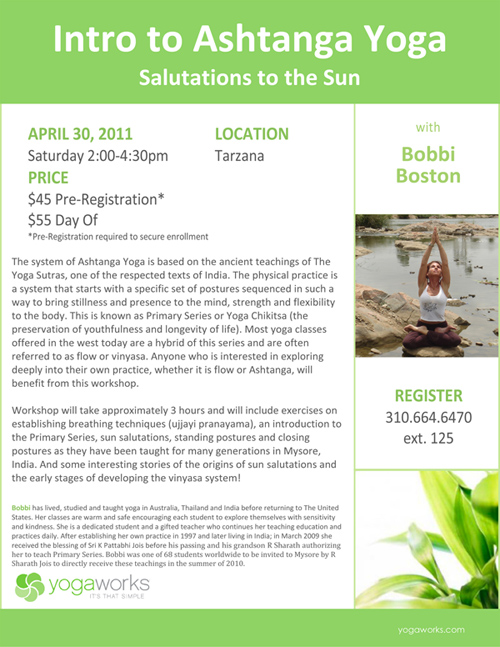 To contact Bobbi directly for classes, private lessons and retreats.
She can be reached through:
Face book: facebook.com/roshabo
Phone: (310) 867-0894
E-mail: b2yogini@gmail.com